Wellness hotel with vegan cuisine
The DIEDRICH Wellnesshotel & SPA is a holistic wellness-oriented, family-run 4-star superior hotel in the middle of the charming half-timbered town of Hallenberg in NRW. Modern design from the resources of the region coupled with an eye for traditional origins characterizes the house. Over the course of many years, a former post office (anno 1898) has evolved into a spacious wellness hotel. With a pleasant size of 65 rooms, it attracts guests seeking relaxation to the beautiful Sauerland region on the border of North Rhine-Westphalia with Hesse. Here, adult guests experience a time-out just for themselves - without children and without dogs.
Wellness (also) for vegans
A wellness vacation that also has a lasting effect always comprises four components (according to Donald Ardell's definition). These are relaxation, movement, emotional well-being and nutrition. All of these have a different importance for each guest and also feel individually different. A wide range of wellness offers ensures that guests can perfectly meet their personal needs in accordance with our wellness philosophy during their wellness vacation at DIEDIRCH.
We explicitly point out that our hotel is not an exclusively vegan house. This is reflected, for example, in our partly leather furnishings, the general menu offer and other parts of the hotel. However, we support this way of life especially in our food offer as well as in our wellness treatments. All aspects that make a wellness vacation appealing to vegans, we try to comply as best as possible.
Vegan diet at DIEDRICH Wellnesshotel & SPA
You eat a vegan diet? A vegan diet is characterized by the renunciation of animal products. A diet that we also support in our wellness hotel. We are not an exclusively vegan wellness hotel, but we would like to make a purely plant-based diet possible for every guest during their wellness stay. The day with us begins with a visit to our rich breakfast buffet, which also offers choices for vegans. Here we place particular emphasis on products of regional origin. Thus, the coffee comes from the coffee roastery Langen in Medebach, the jam from Holzbächers Hofladen in Gemünden and the baked goods from the bakery Gerhard Frankenstein in Medelon. This makes breakfast fun! If during the day the small hunger arises, you have the possibility from the Vesperkarte in our SPA bistro to enjoy different vegan dishes, such as a vegan soup or a vegan salad. Throughout the day, fresh struth water as well as fruit is available for you free of charge. Vegan catering is thus guaranteed.
Experience vegan dishes at dinner
Vegans get a vegan menu with us as part of the half-board menu of the wellness hotel, which will spoil you culinary from the appetizer to the dessert. You can get a first impression of which vegan dishes you can expect with us by taking a look at our menu. In various dining rooms you can enjoy vegan dishes such as - depending on the season - for example a spicy lentil and paprika curry with chickpea cookies and lime yogurt or pumpkin wedges wrapped in nuts on dried fruit couscous with coconut curry sauce. We look forward to spoiling you vegan and healthy with our freshly prepared dishes.
Water, heat, snow - discover SPA area
Surrounded by gentle mountains, Hotel DIEDRICH is a great starting point for hiking or cycling tours. Many different hiking and biking routes invite you to get to know the Hallenberg landscape in the middle of the beautiful Hochsauerland. Water lovers can enjoy themselves perfectly in our two pools. Either swim a few laps in our outdoor infinity pool and take in the view of the Hallenberg valley at the end of the pool, or linger in relaxation in our light-flooded columned pool. Those who are more in the mood for warming down time for body, mind and soul will find many options for this in the sauna area. From the pine wood sauna to the Finnish panorama sauna to the steam bath: relaxing with the power of heat is easy here. The final cooling down takes place either under a refreshing shower or in our cool snow grotto, where you can experience winter all year round.
From darts to yoga: active on a wellness vacation
But also for the exercise-loving recreation seekers, the active offer of our wellness hotel is large. Those who have long been in the mood for a game of darts, foosball or table tennis, will find the possibilities in our newly furnished social room. All those who like to work out in the gym are in the right place in our new large fitness room with a variety of different sports equipment. The equipment is complemented by a wide variety of guided exercise courses as part of our active program - from yoga to relaxation techniques to guided hikes. The "Haus der Mitte" is the perfect place to once again focus mindfully on yourself.
Pure relaxation: wellness applications vegan
Of course, you can pamper yourself extensively in the SPA area as part of a wellness treatment. Some treatments are carried out with vegan natural cosmetics. These include, among other things, a pleasant peeling, a pack on the floating lounger or a soothing facial care.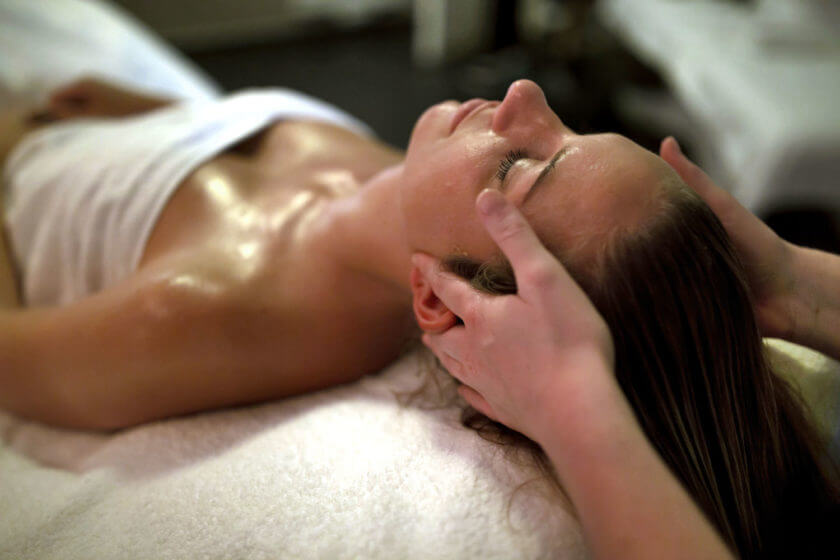 Emotional well-being: Enjoying time with loved ones
When was the last time you had the opportunity to enjoy moments without ifs and buts? To immerse yourself completely in a moment and spend it mindfully with a loved one? We would like to create exactly the space for such moments for you - and that everywhere in our house. During a vegan dinner together, while relaxing in our sauna area, while swimming in one of our pools or while lingering in one of our relaxing rooms.
Experience vegan and vegetarian cuisine in the hotel
In the midst of all the hustle and bustle of everyday life, we would like to be a feel-good oasis for a break from everyday life - also for vegans and vegetarians. We look forward to welcoming you and convincing you of our vegan and vegetarian cuisine at our wellness hotel. Please indicate your desired diet - whether vegan, vegetarian, as well as any intolerances - directly with your booking, so that the kitchen team of our wellness hotel can optimally adjust to them and so no wishes remain unfulfilled.